Learning a language while binging things on Netflix? Sign me up!
Improving your foreign language skills through the arts of movies and tv shows is not only very fun – it is also very effective and useful.
Why learn a language through movies?
The themes that are featured in movies are often very telling of the things that are big issues in a country. In Brazil, there are many movies involving favelas and police squads. Now, this doesn't mean everyone in Brazil lives in a favela, but these movies could not be made in for example Sweden. Romantic comedies tell a lot about the ways people see romance, what people see as the ultimate love story.
A lot of Western movies revolve around Christmas, and that is because Christmas is a very important celebration in Western culture.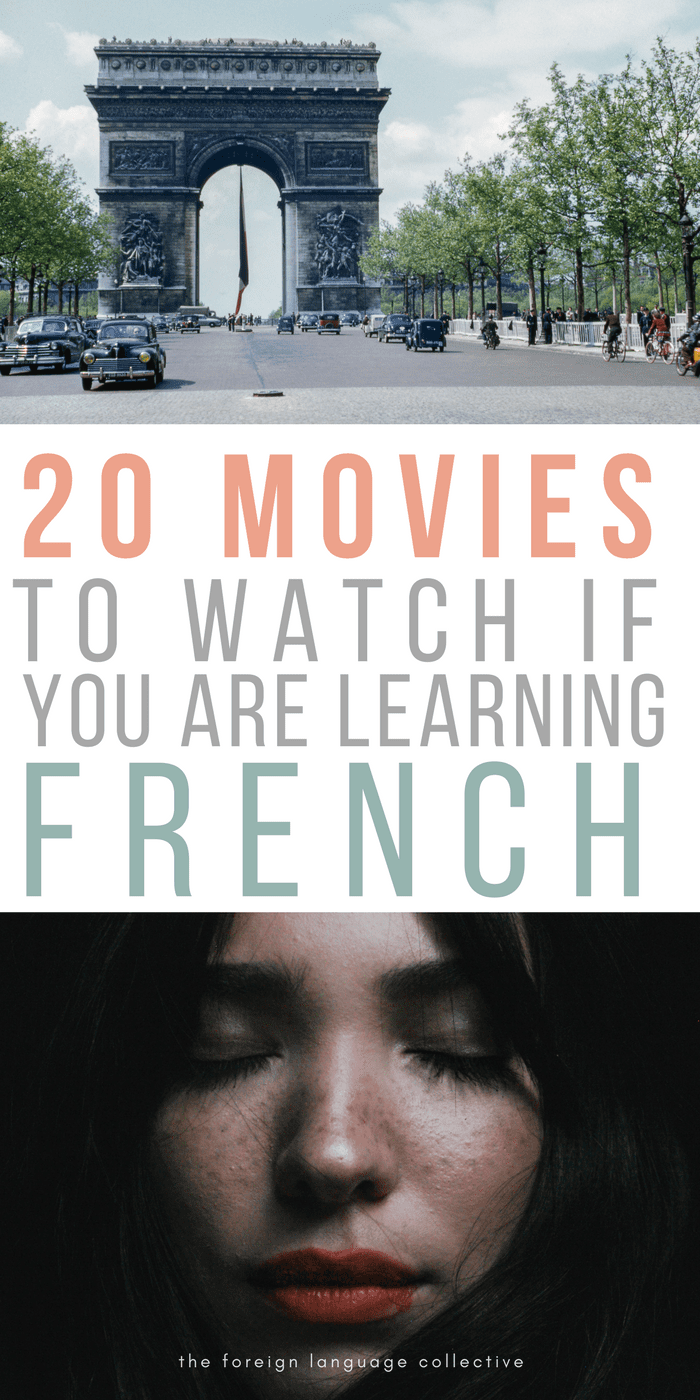 Another important thing when learning a language is that it is the easiest way to be exposed to real speech. In comparison to most language courses, these conversations aren't meant to perfectly match the words you just had to learn with spaces in between the sentences to have you process it. Much of what you will hear you won't be able to understand and that is exactly why you should watch it.
The best thing is that you are exposed to the way native people speak without having to respond to it. You also have the ability to add subtitles, be it in your own language or the language you are trying to learn, or pause it and write things down. All of these reasons make movies and tv shows the perfect aid for your language learning journey.
So, without any further ado let's get into the list. Here are 20 movies you must watch when you are learning French.
"An irreverent, uplifting comedy about friendship, trust and human possibility, The Intouchables has broken box office records in its native France and across Europe. Based on a true story of friendship between a handicap millionaire (Francois Cluzet) and his street smart ex-con caretaker (Omar Sy), The Intouchables depicts an unlikely camaraderie rooted in honesty and humor between two individuals who, on the surface, would seem to have nothing in common."
"Amélie (also known as Le fabuleux destin d'Amélie Poulain)  English: The Fabulous Destiny of Amélie Poulain) is a 2001 French romantic comedy film directed by Jean-Pierre Jeunet. Written by Jeunet with Guillaume Laurant, the film is a whimsical depiction of contemporary Parisian life, set in Montmartre. It tells the story of a shy waitress, played by Audrey Tautou, who decides to change the lives of those around her for the better, while struggling with her own isolation."

"The Diving Bell and the Butterfly (French: Le Scaphandre et le Papillon) is a 2007 biographical drama film directed by Julian Schnabel and written by Ronald Harwood. Based on Jean-Dominique Bauby's memoir of the same name, the film depicts Bauby's life after suffering a massive stroke that left him with a condition known as locked-in syndrome. Bauby is played by Mathieu Amalric."
"A Prophet (French: Un prophète) is a 2009 French prison drama-crime film directed by Jacques Audiard from a screenplay he co-wrote with Thomas Bidegain, Abdel Raouf Dafri and Nicolas Peufaillit. The film stars Tahar Rahim in the title role as an imprisoned petty criminal of Algerian origins who rises in the inmate hierarchy, becoming an assassin and drug trafficker as he initiates himself into the Corsican and then Muslim subcultures."
"Blue Is the Warmest Colour (French: La Vie d'Adèle – Chapitres 1 & 2; is a 2013 French coming-of-age romantic drama film co-written, co-produced, and directed by  Abdellatif Kechiche, starring Léa Seydoux and Adèle Exarchopoulos. The film revolves around Adèle (Exarchopoulos), a French teenager who discovers desire and freedom when a blue-haired aspiring painter (Seydoux) enters her life. The film charts their relationship from Adele's high school years to her early adult life and career as a school teacher. The premise of Blue Is the Warmest Colour is based on the 2010 French graphic novel of the same name by Julie Maroh."
"The Triplets of Belleville (French: Les Triplettes de Belleville) is a 2003 animated comedy film written and directed by Sylvain Chomet. It was released as Belleville Rendez-vous in the United Kingdom. The film is Chomet's first feature film and was an international co-production among companies in France, the United Kingdom, Belgium, and Canada.
The film features the voices of Michèle Caucheteux, Jean-Claude Donda, Michel Robin, and Monica Viegas; there is little dialogue, the majority of the film story being told through song and pantomime. It tells the story of Madame Souza, an elderly woman who goes on a quest to rescue her grandson Champion, a Tour de France cyclist, who has been kidnapped by the French mafia for gambling purposes and taken to the city of Belleville (an amalgam of New York City, Montreal and Quebec City). She is accompanied by Champion's loyal but obese hound, Bruno, and joined by the Triplets of Belleville, music hall singers from the 1930s, whom she meets in the city."
"Olivier, a carpenter by trade who teaches at a trades training center, knowingly takes on Francis Thorion, the murderer of his son, as an apprentice. Francis is unaware of his connection with Olivier from five years ago. Olivier, tormented by the loss of his son and his separation from his wife, develops a slight obsession with Francis. He stalks him home, steals his keys and explores his apartment, whilst slowly discovering more about the boy. Francis looks up to Olivier, seeing him as a surrogate role-model. With this on his mind, Olivier is ultimately torn between hatred for the murderer of his son and the moral ambiguity of accepting this child from a broken home and disillusioned past."
"The Piano Teacher (French: La Pianiste) is a 2001 French-Austrian psychological thriller film, written and directed by Michael Haneke, that is based on the 1983 novel of the same name by Elfriede Jelinek, winner of the 2004 Nobel Prize for Literature. It tells the story of an unmarried piano teacher at a Vienna conservatory, living with her mother in a state of emotional and sexual disequilibrium, who is attracted to a pupil but in the end repels him by her need for humiliation and self-harm. At the 2001 Cannes Film Festival it won the Grand Prix, with the two leads, Isabelle Huppert and Benoît Magimel, winning Best Actress and Best Actor."
"Rust and Bone (French: De rouille et d'os) is a 2012 French–Belgian romantic drama film directed by Jacques Audiard, starring Marion Cotillard and Matthias Schoenaerts, based on Craig Davidson's short story collection Rust and Bone. It tells the story of an unemployed 25-year-old man who falls in love with a woman who trains killer whales."
"The Class (French: Entre les murs; lit. "Between the walls" or "Within the walls") is a 2008 French drama film directed by Laurent Cantet, based on the 2006 novel of the same name by François Bégaudeau. The novel is a semi-autobiographical account of Bégaudeau's experiences as a French language and literature teacher in a middle school in the 20th arrondissement of Paris, particularly illuminating his struggles with "problem children": Esmerelda (Esmeralda Ouertani), Khoumba (Rachel Regulier), and Souleymane (Franck Keïta). The film stars Bégaudeau himself in the role of the teacher."

"In Liège, Belgium. Sandra is a factory worker who discovers that her workmates have opted for a EUR 1,000 bonus in exchange for her dismissal. She has only a weekend to convince her colleagues to give up their bonuses in order to keep her job."

12. Caché (2005)
"Caché, titled Hidden in the UK and Ireland, is a 2005 French psychological thriller written and directed by Michael Haneke. Starring Daniel Auteuil as Georges and Juliette Binoche as his wife Anne, the film follows an upper-class French couple who are terrorized by anonymous tapes that appear on their front porch and hint at Georges's childhood memories."

"Paris, je t'aime (English: Paris, I love you) is a 2006 anthology film starring an ensemble cast of actors of various nationalities. The two-hour film consists of eighteen short films set in different arrondissements. The 22 directors include Gurinder Chadha, Sylvain Chomet, Joel and Ethan Coen, Gérard Depardieu, Wes Craven, Alfonso Cuarón, Nobuhiro Suwa, Alexander Payne, Tom Tykwer, Walter Salles, Yolande Moreau and Gus Van Sant.""
"The Science of Sleep (French: La Science des rêves, literally The Science of Dreams) is a 2006 surrealistic science fantasy comedy film written and directed by Michel Gondry. The film stars Gael García Bernal, Charlotte Gainsbourg, Miou-Miou, and Alain Chabat. The film stems from a bed-time story that was written by Sam Mounier, then 10 years old."

"The Beat That My Heart Skipped (French: De battre mon cœur s'est arrêté) is a 2005 French film directed by Jacques Audiard and starring Romain Duris. It tells the story of Tom, a shady realtor torn between a criminal life and his desire to become a concert pianist. The film premiered on 17 February 2005 at the Berlin Film Festival."
"Of Gods and Men is a 2010 French drama film directed by Xavier Beauvois, starring Lambert Wilson and Michael Lonsdale. Its original French language title is Des hommes et des dieux, which means "Of Men and of Gods" and refers to a verse from the Bible shown at the beginning of the film. It centers on the monastery of Tibhirine, where nine Trappist monks lived in harmony with the largely Muslim population of Algeria, until seven of them were kidnapped and assassinated in 1996 during the Algerian Civil War. 
Largely a tale of a peaceful situation between local Christians and Muslims before becoming a lethal one due to external forces, the screenplay focuses on the preceding chain of events in decay of government, expansion of terrorism, and the monks' confrontation with both the terrorists and the government authorities that led up to their deaths. Principal photography took place at an abandoned monastery in Azrou, Morocco."

"8 Women (French: 8 femmes) is a 2002 French dark comedy musical film, written and directed by François Ozon. Based on the 1958 play by Robert Thomas, it features an ensemble cast of high-profile French actresses that includes Danielle Darrieux, Catherine Deneuve, Isabelle Huppert, Emmanuelle Béart, Fanny Ardant, Virginie Ledoyen, Ludivine Sagnier, and Firmine Richard. Revolving around an eccentric family of women and their employees in the 1950s, the film follows eight women as they gather to celebrate Christmas in an isolated, snowbound cottage only to find Marcel, the family patriarch, dead with a knife in his back. Trapped in the house, every woman becomes a suspect, each having her own motive and secret."

"A French public servant from Provence is banished to the far North. Strongly prejudiced against this cold and inhospitable place, he leaves his family behind to relocate temporarily there, with the firm intent to quickly come back."
"Goodbye to Language (French: Adieu au Langage) is a 2014 French-Swiss 3D experimental narrative essay film written and directed by Jean-Luc Godard. It stars Héloïse Godet, Kamel Abdeli, Richard Chevallier, Zoé Bruneau, Jessica Erickson and Christian Grégori and was shot by cinematographer Fabrice Aragno. The film depicts a couple having an affair. The woman's husband discovers the affair and the lover is killed. Two pairs of actors portray the couple and their actions repeat and mirror one another. Godard's own dog Roxy Miéville has a prominent role in the film and won a prize at the Cannes Film Festival."