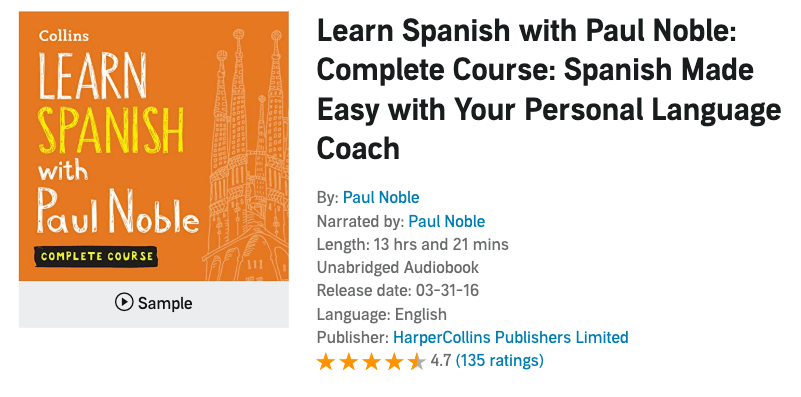 An exciting, nontraditional approach to language learning with the easy, relaxed appeal of an audio-only product. No books. No rote memorisation. No chance of failure.
This download contains the entire course:
Part one: language ground rules; the use of the past tense; numbers; essential vocabulary to use when booking into a hotel, taking a taxi, and eating out
Part two: asking for directions, verb revision, travelling by bus and train, introducing and talking about yourself
Part three: useful phrases when shopping, vocabulary for conversing with a pharmacist or doctor, practice and revision, the future tense
Course review: the course review offers a very useful opportunity to revise the full course and practice what you have learnt
A native-speaking Spanish expert helps you to perfect your pronunciation. Learn over 6,000 words in no time at all, and learn how to make your new vocabulary work for you. A downloadable booklet is also included to use as a reference and revision tool.
This is the most enjoyable and easiest way to learn Spanish. I wish the course was longer!
I feel like I have trying to learn Spanish for a lifetime and have listened to many audiobooks.this one drill you without the boring vocab sessions. Honestly, I have learned more from this book than self-study and rosetta stone.
ALso available for intermediate and advanced learners
You can claim this book + another book of choice for free with your audible trial.

Start now, cancel anytime.