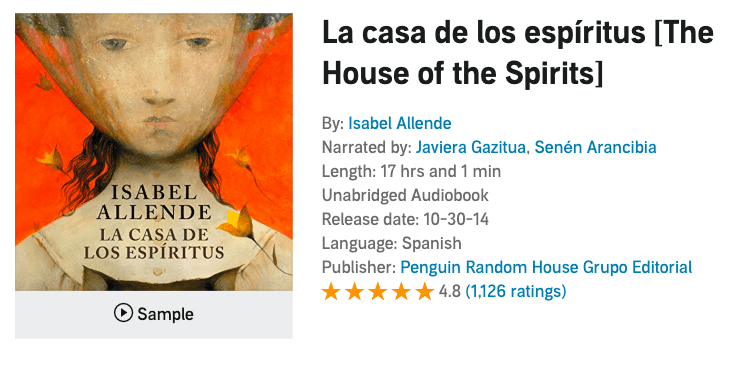 La primera novela de Isabel Allende narra la saga de una poderosa familia de terratenientes. El despótico patriarca Esteban Trueba ha construido con mano de hierro un imperio privado que empieza a tambalearse con el paso del tiempo y un entorno social explosivo. Finalmente, la decadencia personal del patriarca arrastrará a los Trueba a una dolorosa desintegración. Atrapados en unas dramáticas relaciones familiares, los personajes de este poderoso audiolibro encarnan las tensiones sociales y espirituales de una época que abarca gran parte de este siglo.Introducción al audiolibro por parte de Isabel Allende. La casa de los espíritus fue adaptada al cine en una película protagonizada por Jeremy Irons, Meryl Streep y Antonio Banderas.
La historia apasionante de varias generaciones en Chile, culminando en el golpe de estado que derrió a Allende. Uno de los mejores libros que haya leído.
Excelente historia y narración! No debí esperarme tanto para escuchar el audio libro, lo recomiendo!
You can claim this book + another book of choice for free with your audible trial.

Start now, cancel anytime.