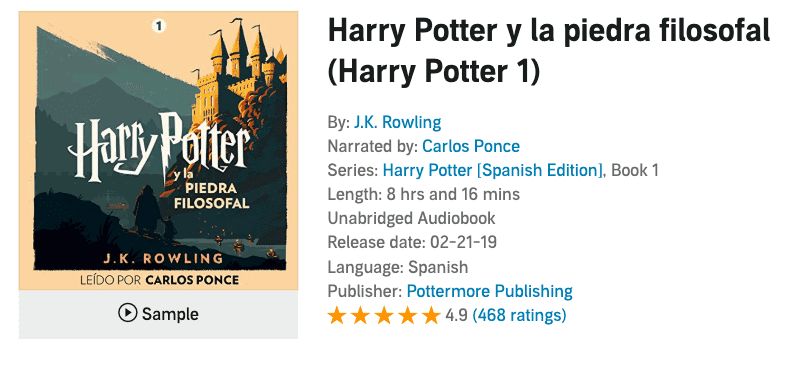 "Con las manos temblorosas, Harry le dio la vuelta al sobre y vio un sello de lacre púrpura con un escudo de armas: un león, un águila, un tejón y una serpiente, que rodeaban una gran letra hache."
Harry Potter jamás ha oído hablar de Hogwarts hasta que las cartas comienzan a llegar al número cuatro de Privet Drive, pero sus siniestros tíos se apropian rápidamente de estos pergaminos amarillentos que llevan la dirección escrita en tinta verde y un sello púrpura. Luego, en su undécimo cumpleaños, un gigantesco hombre con ojos como escarabajos llamado Rubeus Hagrid irrumpe con una noticia asombrosa: Harry Potter es un mago y lo esperan en el Colegio Hogwarts de Magia y Hechicería. ¡Una aventura increíble está por comenzar!
Wow no puedo creee que no lo haya leido antes es grandioso y la narracion de Carlos Ponce es maravillosa! 100% recomendable y ahora mismo descargo el segundo ejemplar.
I've been waiting YEARS for these to be released in Spanish, it did not disappoint.
rest of the series also available
You can claim this book + another book of choice for free with your audible trial.

Start now, cancel anytime.