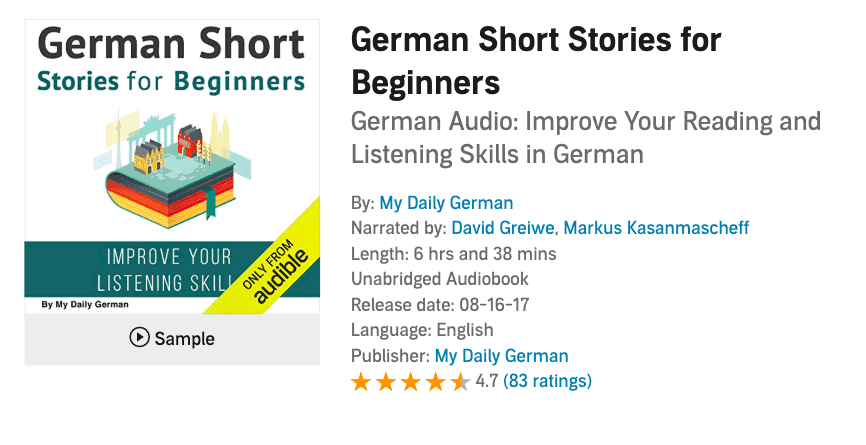 Improve your German reading, pronunciation, and listening skills. Make learning new vocabulary so much easier with 10 fun and engaging German stories. 
Reading and listening to short stories is an effective and enjoyable method of learning German. 
For those of you who can't just slip away from life, travel to Germany, and immerse yourself in the language in order to learn it, this is your solution! Listening to native-spoken German stories is the next best thing. 
You have at your fingertips the audiobook that allows you to: 
► Gain a greater vocabulary that you can use immediately, every day. You will add 1,500+ German words and expressions to your repertoire through the encounter of descriptive sentences and casual conversations woven throughout the stories.
► Sharpen your comprehension of the spoken word by listening to a native German speaker. 
► Learn how to pronounce German words properly.
► Familiarize yourself with a wide range of grammar structures and put them to use today.
► Avoid the monotonous task of memorizing grammar rules. How awesome is that?! 
Each story is recorded by a native German speaker at a natural speed for learners to understand what is being said. 
All stories are written using vocabulary that you could easily use in your day-to-day conversations.
I tried books, school, and any other medium to learn at least "basic" German language and none of them caught my attention.

Tried this app, listened for a minute "thinking oh well I can give this a chance or something", then another minute, and another, till I almost finished an hour!

I am a dynamic person and love to feel what I learn. The thing about this audio book makes it real, the narrators are good that as if they are beside you, although you cant see them but was able to visually describe things for you.

Will keep this on my phone!
I am currently studying German, and it goes really hard. A lot of rules, and to understand somebody speaking German seemed impossible.
Then, I found this audiobook. Didn't know if it will help. Turned it on, and Oh God! I could understand some words. After like 5 minutes I could even understand the story line.
Some of the words I heard I didn't know, but this audiobook gives all of the words with translation and right pronunciation: slow and clear, so I could repeat it.
I'm totally in love with the book. It helped a lot.
You can claim this book + another book of choice for free with your audible trial.

Start now, cancel anytime.