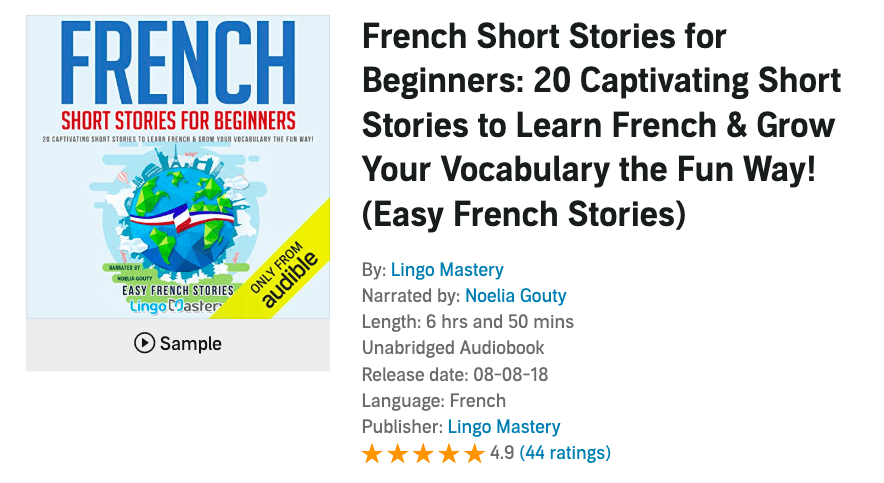 Do you know what the hardest thing for a French learner is?
Finding PROPER reading material that they can handle…which is precisely the reason we've written this book!
Teachers love giving out tough, expert-level literature to their students, books that present many new problems to the reader and force them to search for words in a dictionary every five minutes – it's not entertaining, useful, or motivating for the student at all, and many soon give up on learning at all!
In this book we have compiled 20 easy-to-read, compelling, and fun stories that will allow you to expand your vocabulary and give you the tools to improve your grasp of the wonderful French tongue.
How French Short Stories for Beginners works:
» Each story will involve an important lesson of the tools in the French language (verbs, adjectives, past tense, giving directions, and more), involving an interesting and entertaining story with realistic dialogues and day-to-day situations.
» The summaries follow a synopsis in French and in English of what you just read, both to review the lesson and for you to see if you understood what the tale was about.
» At the end of those summaries, you'll be provided with a list of the most relevant vocabulary involved in the lesson as well as slang and sayings that you may not have understood at first glance!
» Finally, you'll be provided with a set of tricky questions in French, providing you with the chance to prove that you learned something in the story. Don't worry if you don't know the answer to any – we will provide them immediately after, but no cheating!
So look no further! Pick up your copy of French Short Stories for Beginners and start learning French right now!
The structure of this audio is very simple – a story in French, a summary of the story in French, a summary in English, a review of the key vocabulary, and a quiz. It works brilliantly. If you have some familiarity with French, it is a great refresher. If you are new to French, I encourage you to download the PDF and follow along. If you can't, you may be a little lost during the stories, but don't worry, the summaries will help you catch up. 

I have some knowledge of French and I thoroughly enjoyed the book. Of all the stories, I enjoyed the third one the most. The story of a woman who goes to speed dating and comes away with much more than she had expected. There are cute stories, funny stories, while some are short, and some are a bit longer. All in all, they are enjoyable. 

Noelia Gouty is a fabulous French narrator because she does not have a strong regional accent – she is as neutral as one could wish. Her speaking in English is not as strong and she mispronounced several words. Not a big deal and certainly not enough to detract from the book. 

Overall, I enjoyed it and can recommend it to someone contemplating plunging into the beautiful romantic language that is French. For myself, it was a wonderful and engaging book. 
This is a great addition to your language learning lessons. I find it hard sometimes to understand oral French and this audiobook really helps to improve your comprehension. The stories are varied and are a great way to learn new words as well. It includes a pdf with the dialog of the stories to help either follow along or improve your reading comprehension as well. Highly recommend this audiobook if you are looking to improve your French skills.
You can claim this book + another book of choice for free with your audible trial.

Start now, cancel anytime.