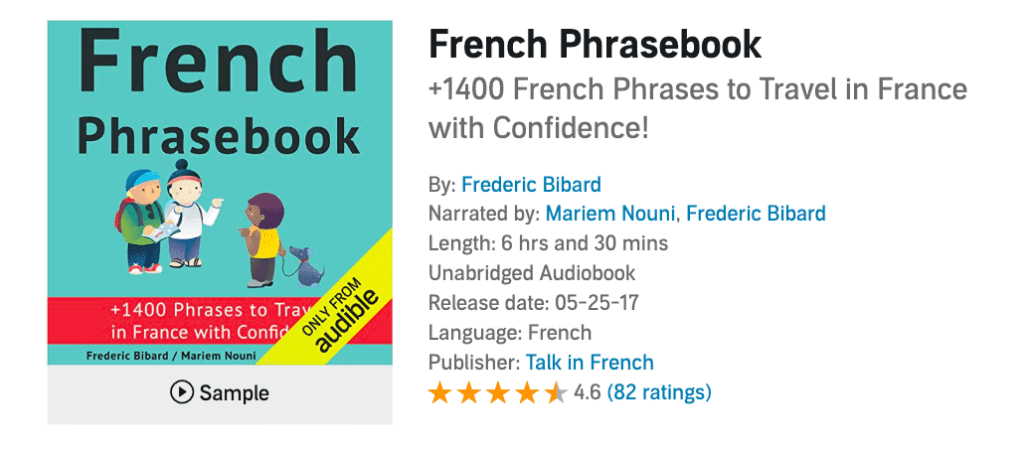 Cover all possible scenarios you may encounter in France from your arrival in the airport up to some unfortunate ones (sickness for example). 
1400+ words/expressions in French/English and English pronunciation. 
Order the right food with the menu helper: A huge list (more than 600 words) of vocabulary/dishes translated to English and phonetics! 
I used to study French by myself using various online resources for a few months but I had given up because I couldn't pronounce ANY words correctly. This audiobook has been a tremendous help in teaching me how to pronounce each word correctly and thanks to this audiobook, I am going to resume learning French! This audiobook comes with a PDF which entails both the transcript of the audiobook and the pronunciation of every word/phrase. It is a great resource for anyone learning French and for anyone who wants to learn it correctly. Highly recommended!
"French Phrasebook: +1400 Phrases to Travel in France with Confidence" is a great audiobook to learn French. I have never taken French, but I have always been interested. This short book definitively helped me learn words and phrases in French. I really appreciated the repetition of words and phrases since it helps with the learning process. I also enjoyed that the book contains everything you could need to establish conversations, get directions, indicate places to visit or sightseen, among many other useful words. This audible version allows you to not only learn a word but also its pronunciation and how/when to use it. I highly recommend this book.
You can claim this book + another book of choice for free with your audible trial.

Start now, cancel anytime.