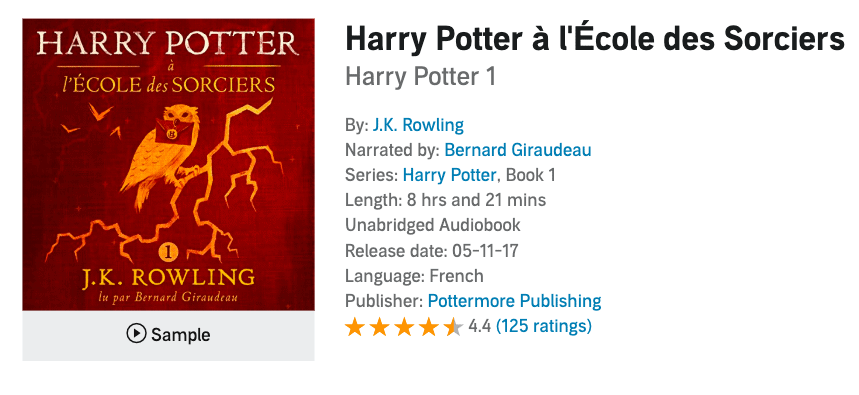 Orphelin, Harry Potter est élevé par un oncle et une tante qui ne l'aiment pas. Le jour de ses 11 ans, son existence bascule : un géant l'emmène à Poudlard, l'école de sorcellerie ! Voilà son incroyable destin : être sorcier. Jeter des sorts, utiliser des pouvoirs, ensorceler les trolls… À la maison Gryffondor, il rencontre Ron et Hermione, s'initie au Quidditch, un sport pratiqué sur un balai. La vie est excitante, mais Voldemort, Celui-Dont-On-Ne-Doit-Pas-Prononcer-Le-Nom, refait surface. 

Initiation ou plaisir renouvelé, plongez dans le 1er tome du célèbre chef d'œuvre de J.K. Rowling ! Guidé par une voix envoutante, revivez le début de la série Harry Potter avec ce livre audio à télécharger.
As an American intermediate Speaker of French, I found this book to be a delight and an excellent learning tool. I have it in French on Kindle and the combination is magic (pun intended!). The kindle offers instant dictionary access for unfamiliar words, the audio provides practice in listening and comprehension (the hardest part for me), the ability to stop and repeat offers the opportunity to practice pronunciation, and the plot keeps you engaged and motivated. This and the right reference books have allowed for very efficient progress in my French listening and speaking skills.

Wonderful story, wonderful narrator, organic language acquisition. Most enjoyable and effective learning experience I've had in years.
As a native french, the reading is absolutely perfect, the intonations are just right, it's funny and cynical at time… 
I absolutely love it!
You can claim this book + another book of choice for free with your audible trial.

Start now, cancel anytime.