Who doesn't love a good TED Talk? At the very least they tell you something you didn't know before. At the very best they inspire you to become a smarter, wiser person. If you are a language fanatic (like most of us here at the Foreign Language Collective), you will especially love all of these interesting talks about language.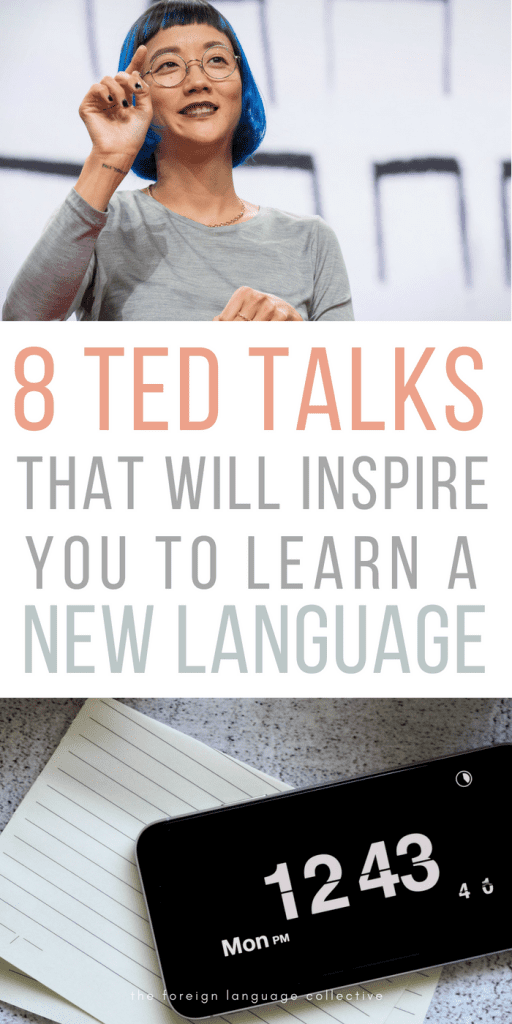 Did you know the language you speak can actually affect how much you save? Or that there is a hidden musicality within sign language?
Watch one of these TED Talks for some guaranteed language learning inspiration.
1. Four Reasons To Learn A New Language
"English is fast becoming the world's universal language, and instant translation technology is improving every year. So why bother learning a foreign language? Linguist and Columbia professor John McWhorter shares four alluring benefits of learning an unfamiliar tongue."

2. Learn To Read Chinese .. with ease
For foreigners, learning to speak Chinese is a hard task. But learning to read the beautiful, often complex characters of the Chinese written language may be less difficult. ShaoLan walks through a simple lesson in recognizing the ideas behind the characters and their meaning — building from a few simple forms to more complex concepts. Call it Chineasy.
3. My Year of Reading A Book From Every Country In the World
Ann Morgan considered herself well read — until she discovered the "massive blindspot" on her bookshelf. Amid a multitude of English and American authors, there were very few books from beyond the English-speaking world. So she set an ambitious goal: to read one book from every country in the world over the course of a year. Now she's urging other Anglophiles to read translated works so that publishers will work harder to bring foreign literary gems back to their shores. Explore interactive maps of her reading journey here: go.ted.com/readtheworld
4. The Enchanting Music of Sign Language
Artist and TED Fellow Christine Sun Kim was born deaf, and she was taught to believe that sound wasn't a part of her life, that it was a hearing person's thing. Through her art, she discovered similarities between American Sign Language and music, and she realized that sound doesn't have to be known solely through the ears — it can be felt, seen and experienced as an idea. In this endearing talk, she invites us to open our eyes and ears and participate in the rich treasure of visual language.

5. Don't Insist on English
Patricia Ryan is a longtime English teacher who asks a provocative question: Is the world's focus on English preventing the spread of great ideas in other languages? In other words: What if Einstein had to pass the TOEFL? It's a passionate defense of translating and sharing ideas.
6. Could your language affect your ability to save money?
What can economists learn from linguists? Behavioral economist Keith Chen introduces a fascinating pattern from his research: that languages without a concept for the future — "It rain tomorrow," instead of "It will rain tomorrow" — correlate strongly with high savings rates.
7. Don't kill your language
More and more, English is a global language; speaking it is perceived as a sign of being modern. But — what do we lose when we leave behind our mother tongues? Suzanne Talhouk makes an impassioned case to love your own language, and to cherish what it can express that no other language can. In Arabic with subtitles.
8. Should we simplify spelling?
How much energy and brain power do we devote to learning how to spell? Language evolves over time, and with it the way we spell — is it worth it to spend so much time memorizing rules that are filled with endless exceptions? Literary scholar Karina Galperin suggests that it may be time for an update in the way we think about and record language. (In Spanish with English subtitles)