Learning a language while binging things on Netflix? Sign me up!
Improving your foreign language skills through the arts of movies and tv shows is not only very fun – it is also very effective and useful.
Why learn a language through movies?
The themes that are featured in movies are often very telling of the things that are big issues in a country. In Brazil, there are many movies involving favelas and police squads. Now, this doesn't mean everyone in Brazil lives in a favela, but these movies could not be made in for example Sweden. Romantic comedies tell a lot about the ways people see romance, what people see as the ultimate love stoey.
A lot of Western movies revolve around Christmas, and that is because Christmas is a very important celebration in Western culture.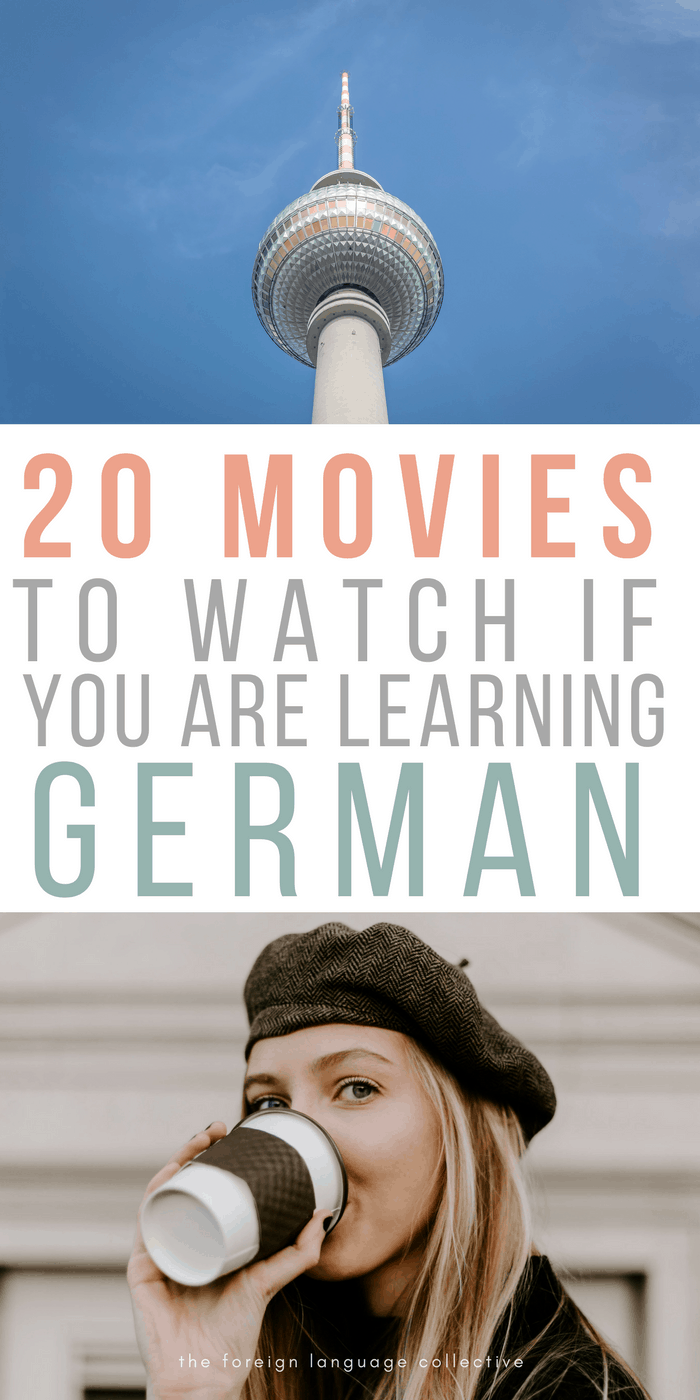 Another important thing when learning a language is that it is the easiest way to be exposed to real speech. In comparison to most language courses, these conversations aren't meant to perfectly match the words you just had to learn with spaces in between the sentences to have you process it. Much of what you will hear you won't be able to understand and that is exactly why you should watch it.
The best thing is that you are exposed to the way native people speak without having to respond to it. You also have the ability to add subtitles, be it in your own language or the language you are trying to learn, or pause it and write things down. All of these reasons make movies and tv shows the perfect aid for your language learning journey.
So, without any further ado let's get into the list. Here are 20 movies you must watch when you are learning German.
1. Das Leben der Anderen
"The Lives of Others (German: Das Leben der Anderen) is a 2006 German drama film, marking the feature film debut of filmmaker Florian Henckel von Donnersmarck, about the monitoring of East Berlin residents by agents of the Stasi, the GDR's secret police. It stars Ulrich Mühe as Stasi Captain Gerd Wiesler, Ulrich Tukuras his superior Anton Grubitz, Sebastian Koch as the playwright Georg Dreyman, and Martina Gedeck as Dreyman's lover, a prominent actress named Christa-Maria Sieland." 
"Downfall (German: Der Untergang) is a 2004 German–Italian–Austrian historical war drama film depicting the final ten days of Adolf Hitler's rule over Nazi Germany in 1945. It was based on several histories of the period. The film was directed by Oliver Hirschbiegel, and written and produced by Bernd Eichinger. The film received critical acclaim upon release and was nominated for the Academy Award for Best Foreign Language Film."

"Cahit Tomruk is a Turkish German in his 40s. He has given up on life after the death of his wife and seeks solace in cocaine and alcohol. One night, he intentionally drives his car head-on into a wall and barely survives. At the psychiatric clinic he is taken to, Sibel Güner, another Turkish German who has tried to commit suicide, approaches him. She asks Cahit to carry out a formal marriage with her so that she can break out of the strict rules of her conservative family. Cahit is initially turned off by the idea, but then he agrees to take part in the plan."
"Retired widower Ali Aksu (Tuncel Kurtiz), a Turkish immigrant living in the German city of Bremen, believes he has found a solution to his loneliness when he meets Yeter Öztürk (Nursel Köse). He offers her a monthly payment to stop working as a prostitute and move in with him. After receiving threats from two Turkish Muslims for the work she does, she decides to accept his offer. Ali's son, Nejat Aksu (Baki Davrak), a professor of German literature, does not have time to respond to the prospect of living with a woman of "easy virtue" before Ali is stricken with a heart attack. He softens to her: he learns that she has told her 27-year-old daughter she is a shoe saleswoman, sending shoes to her in Turkey to support that story, and wishes her daughter could receive an education like his."
"For two weeks, 20 male participants are hired to play prisoners and guards in a prison. The "prisoners" have to follow seemingly mild rules, and the "guards" are told to retain order without using physical violence."
Run Lola Run (German: Lola rennt, literally "Lola runs") is a 1998 German thriller film written and directed by Tom Tykwer, and starring Franka Potente as Lola and Moritz Bleibtreu as Manni. The story follows a woman who needs to obtain 100,000 Deutsche Mark in twenty minutes to save her boyfriend's life. The film's three scenarios are reminiscent of the 1981 Krzysztof Kieślowski film Blind Chance; following Kieślowski's death, Tykwer directed his planned film Heaven. The film was released on DVD on 21 December 1999 and on Blu-ray on 19 February 2008.
The film is set in East Berlin, from October 1989 to just after German reunification a year later. Alex lives with his sister, Ariane, his mother, Christiane, and Ariane's infant daughter, Paula. It appears that his father abandoned the family and fled to the West in 1978. In his absence, Christiane has become an ardent supporter of the ruling Socialist Unity Party of Germany (the Party). On the other hand, Alex takes part in an anti-government demonstration. There he meets a girl, but they are separated by the Volkspolizei before they can properly introduce themselves. When Christiane sees Alex being arrested, she suffers a near-fatal heart attack and falls into a coma. While visiting his mother in the hospital, Alex encounters the girl he met in the demonstration, Lara, a nurse from the Soviet Union who is now caring for his mother. Alex and Lara soon begin dating and develop a close bond.

In 1938, the Redlich family flees to Kenya from Leobschütz in Silesia, Nazi Germany, to escape the increasing persecution of the Jews. Walter, a former lawyer, finds work as a farm manager and sends for his family. His wife Jettel has trouble adjusting to life in Africa, although their daughter Regina quickly adapts to her new environment, easily learning the language of the country and showing interest in local culture. Regina soon forms a close friendship with the farm's cook, Owuor, who helped save Walter's life when he had malaria. The only German contact that Jettel has is through a friend of Walter's named Süsskind, an ex-German who has lived in Africa for years. Jettel asks Süsskind why he was never married, and he states that he had a habit of falling in love with married women.

Two psychopathic young men take a family hostage in their cabin.
Funny Games is a 2007 psychological thriller film written and directed by Michael Haneke, and a remake of his own 1997 film Funny Games. Naomi Watts, Tim Roth, Michael Pitt, and Brady Corbet star in the main roles. The film is a shot-for-shot remake of the 1997 film,[3][4][5] albeit in English and set in the United States with different actors.[6] Exterior scenes were filmed on Long Island.[6] The film is an international co-production of the United States, United Kingdom, France, Germany, and Italy.[7][8][9]
Haneke has stated that the film is a reflection and criticism of violence used in media.[10]

" Sophie Scholl – The Final Days (German: Sophie Scholl – Die letzten Tage) is a 2005 German film by director Marc Rothemund and writer Fred Breinersdorfer. It is about the last days in the life of Sophie Scholl, a 21-year-old member of the anti-Nazi non-violent student resistance group the White Rose, part of the German Resistance movement. She was found guilty of high treason by the People's Courtand executed the same day, 22 February 1943.
The film was presented at the Berlinale in 2005 and won Silver Bear awards for Best Director and Best Actress (Julia Jentsch). It was nominated in September 2005 for an Oscar in the category Best Foreign Language Film."

"The story follows a group of German soldiers, from their Italian R&R in the summer of 1942 to the frozen steppes of Soviet Russia and ending with the battle for Stalingrad." *
"Stalingrad is a 1993 German war drama film directed by Joseph Vilsmaier. The movie follows a platoon of World War II German Armysoldiers transferred to Russia, where they ultimately find themselves fighting in the Battle of Stalingrad.
The film is the second German movie to portray the Battle of Stalingrad. It was predated by the 1959 Hunde, wollt ihr ewig leben(Stalingrad: Dogs, Do You Want to Live Forever?)."

"Three activists cobble together a kidnapping plot after they encounter a businessman in his home."
"The Edukators (German: Die fetten Jahre sind vorbei)[a] is a 2004 German-Austrian crime drama film directed by Hans Weingartner. It stars Daniel Brühl, Stipe Erceg and Julia Jentsch as three young, anti-capitalist Berlin activists involved in a love triangle. The friends, calling themselves "the Edukators",[b] invade upper-class houses, rearrange the furniture, and leave notes identifying themselves.
Weingartner, a former activist, wrote the film based on his experiences and chose to use nonviolent characters. The film, shot in Berlin and Austria with digital hand-held cameras, was made on a low budget which Weingartner said kept the focus on the acting. First shown at the Cannes Film Festival on 17 May 2004 and released in its home countries later that year, The Edukators was praised by critics and audiences. It grossed more than $8 million worldwide and received a number of awards and nominations. It did, however, receive criticism mainly for its political statements and also for its long running time."

"A look at Germany's terrorist group, The Red Army Faction (RAF), which organized bombings, robberies, kidnappings and assassinations in the late 1960s and '70s."
"The Baader Meinhof Complex (German: Der Baader Meinhof Komplex) is a 2008 German film by Uli Edel in his first directorial project since 2000's The Little Vampire. Written and produced by Bernd Eichinger, it stars Moritz Bleibtreu, Martina Gedeck, and Johanna Wokalek. The film is based on the 1985 German best selling non-fiction book of the same name by Stefan Aust. It retells the story of the early years of the West German far-left militant group the Rote Armee Fraktion (Red Army Fraction, or Red Army Faction, a.k.a. RAF) from 1967 to 1977.
The film was nominated for Best Foreign Language Film at the 81st Academy Awards. It was also nominated for the Golden Globe in the Best Foreign Language Film category."

"When a young woman investigates her town's Nazi past, the community turns against her."
"The Nasty Girl (German: Das schreckliche Mädchen) is a 1990 West German drama film based on the true story of Anna Rosmus. The original German title loosely translates as "The Terrible Girl."
The film was selected as the German entry for the Best Foreign Language Film at the 63rd Academy Awards.[2]"

"Frank Lehmann (Christian Ulmen) is a bartender working in Kreuzberg, a borough of West Berlin in October 1989, in the final weeks before the fall of the Berlin Wall. As he is approaching his 30th birthday, his friends start teasing him by calling him "Herr Lehmann" ("Mr. Lehmann"). He has little interest in anything outside of SO 36, the eastern part of the borough of Kreuzberg. He has a brief relationship with Katrin (Katja Danowski (de)), a cook at a nearby bar. His best friend, Karl (Detlev Buck) slowly goes mad, and his parents show up for a visit, disrupting his laid-back lifestyle."

"In 1927, unemployed German-Jewish actor Harry Frommermann is inspired by the American group The Revelers to create a German group of the same format. He holds auditions and signs on four additional singers and a pianist. Naming themselves the "Comedian Harmonists", they meet international fame and popularity. However, they eventually run into trouble when the Nazis come to power, as half the group is Jewish."
"
"Richard, a coal miner from Essen, returns after eleven years of being a Soviet prisoner of war in Siberia. In the meantime, his wife, two sons, and one daughter have reached a minimum standard of living without him. When he is unexpectedly repatriated in 1954, he has severe problems in reintegrating himself with his family and country. His wife is running a small business, his elder son has become a Communist challenging his father's ideals of the Nazi time, his daughter flirts with British soldiers who are his former enemies, while his 11-year-old son Matthias, who never knew his father, admires a local football hero instead, Helmut Rahn of Rot-Weiß Essen.
While Richard is initially very stern about Matthias' love for football, he gradually softens such that, on the night before the final game, father and son drive to Bern to see the match.
An additional plot of the movie is the personal triumph of Helmut Rahn, for whom Matthias becomes a lucky mascot. Rahn, nicknamed "The Boss", has a successful record at club level, though is rarely chosen to play at national level in trainer Sepp Herberger's team."

"Axel (played by Til Schweiger) has just been dumped by his girlfriend Doro (Katja Riemann), and needs to find a new place to live. He meets Walter a.k.a. Waltraud (Rufus Beck), a transvestite who participated in a heterosexual men's group to provide a gay man's perspective. Walter talks Axel into joining him and some friends at a gay party afterwards, and tries to convince Axel to move in with him. At the party, Axel decides instead to move in with Walter's best friend, Norbert (Joachim Król), whose boyfriend has just left him. Later, at Axel and Doro's apartment, Norbert tries to seduce Axel while they browse old photos. Just when Norbert has shed all his clothes, Doro shows up at the door, and Axel hastily hides Norbert. Doro explains to Axel that she's expecting his child and wants to give their relationship a second chance. She is not amused to discover a naked man in the wardrobe, but Axel manages to convince her that nothing has happened. Excited about fatherhood and eager to return to Doro, Axel forgets about his new friendship with Norbert."

"Medical student Paula Henning (Franka Potente) wins a place in a summer course at the prestigious University of Heidelberg's Medical School. Her grandfather had been a noted professor there, and was famous for developing a useful drug, Promidal. The course will be taught by Professor Grombek, who announces the hard work ahead. He also tells them that he will be using the elimination system, where the six lower grades will be periodically discarded. During one of their courses on anatomy, the body of David, a young man whom Paula met and helped on the train trip to Heidelberg, turns up on her dissection table. She is then humiliated by Professor Grombek, who dares her to cut and dissect the heart. She remarks that the body presents strange cuts, but this is dismissed as bad handling by the morgue caretaker. She decides to investigate the mysterious circumstances surrounding his death. When she goes to cut a sample for an independent test she is amazed to find a triple "A" mark near David's ankle. She is then startled by the medical school's mortuary preparator,[3] who wants to know if Professor Grombek is aware of her acts."

"Eddi is just back in town after his imprisonment. He plans to free his African jail comrade Timpe, because the latter will get no asylum in Germany and probably be killed when sent to his country. When freeing Timpe at the airport, Eddi and his comrades find out that the police officers are smuggling drugs when escorting those who get no asylum back to their countries. Eddi decides to take advantage of the situation."
I hope you enjoyed this list! What movies do you recommend for people learning German?